Since when is it possible to have multi cam capture with Media Express? Where is the facepalm emoji?

Since December last year, I try to get support on this.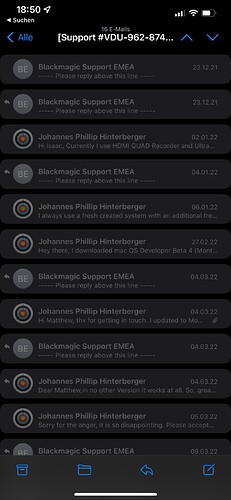 And it exactly started with the same reply.


But this finally seems to be promising: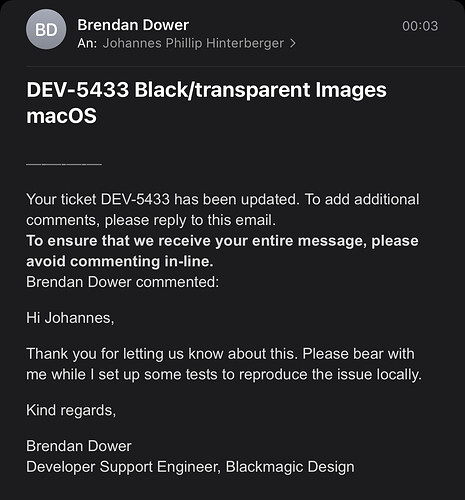 Blackmagic Desktop Video 12.3 released yesterday.
Release notes:
Fix an issue causing frames to be dropped when capturing and playing back multiple streams on M1 Macs.

Fix issue where Apple ProRes captures on M1 Max and M1 Pro Macs contained black frames.
i thought macOS could only handle two BMD miniRecorders at a time? isn't that the limit for mimoLive (or maybe it's an M1 limit, i forget, and as i only have two miniRecorders i can't test it!)
I used 6 Thunderbolt 3 Ultrastudio Recorders with an M1 Pro over the weekend.
Not an M1 Pro limitation.
The restriction was valid based on two aspects:
how many busses.
thunderbolt 2 and number of connectors
TB2-ports on former Macs were on shared busses.
Two or tree connectors (plus hdmi out), but only one bus. Now we have 1 bus and 1 connector. Additionally, TB2 was only 10gbit/s per bus (not per connector).
Si, nowadays we can have up to 40gbit/s per connector. 3G-devices are connected with up to 5gbit/s, so you can count up.

Sounds amazing!
Amazing! It's good to read. I had 2 transparent images, while startup. Since then, nothing strange happened. GPU usage decreased about 25%. CPU about 30%. I'm glad that it works now!
Was that on a MBP Pro or Studio M1 Pro, Brian? Love to know your specs. I'm still waiting by on a M1 mac mini with a piddling 8 GB of RAM. I was hoping a mac mini pro would come out at WWDC but not happening for now. So I might get a mac studio M1 pro or a MBP M1 pro… not sure what to do ATM, I have three Dell displays, one of them factory colour calibrated so temped to go for the studio box to save on the cost of the MBP display.