Hey guys,
today I want to discuss auto switching by triggers.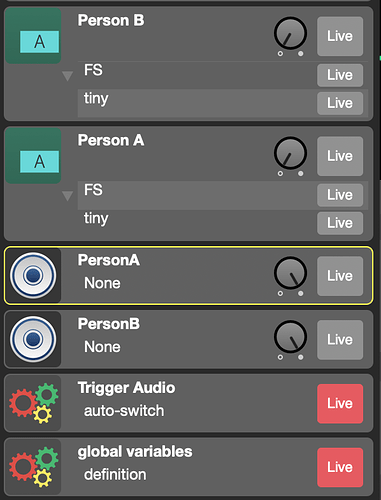 No question: This technique is really performance intensive, but it should demonstrate how easy it is to react on special settings within the document. Sure, you can do all of this with layerSets, but imagine. If you want to use a dynamic range of inputs, then you have to manipulate everything on screen dynamically. So, think about using something like this, especially when you want to react on your settings once while a special event.
This document contains a watchdog, which reacts on the current settings at the layer stack, as long as the script is active, and this may be too performance intensive to use this technique for everything on every frame…
Notice:
For a second demo, which uses the script once after the change, click here.
Download Demo:
https://drive.google.com/file/d/19rMYg5FA9XfHRAQ321uKBI_7oGnOyn2Y/view?usp=sharing
Simply play around with the Audio-Live-Status and watch the PGM output.
What do you think about something like this? Have you ever used ifLayerIsOn() or ifLayerIsOff() before?