I have recently been encountering an issue where the Program Output Video begins getting further and further delayed and out of sync with the audio.
I always expect a little bit of a delay to the Program Output when I stream but recently, the delay gets worse and worse as my show (1 hour long) goes on. When I setting up the delay is minimal but once I start broadcasting the video slips further and further behind the audio.
You can see an example of this here: https://youtu.be/YPobpmLTq5E?t=1828
This is not something that can be fixed by an audio delay because it gets more and more delayed throughout the broadcast. It is delayed in live camera feed and the pre-recorded videos I play during the show.
I will say that this past week, an alert popped up during the middle of the broadcast telling me I need to reauthorize my Twitch stream and once I click 'Ok' the delay got MUCH shorter and was almost back to normal. But not completely. Then it started slipping again.
I would love to trouble shoot this issue and see if I can correct it because it is only a relatively new occurrence. I don't know if this is an issue with my laptop not being powerful enough or if there is some setting I'm missing in mimoLive that could tweak everything. I have a 4k camera but I don't broadcast our in 4k and I'd be happy with even using a lower HD resolution if it meant the delay is gone.
One note before I post my setup, this happened when I was using beta 5.6b2 this weekend but also happened (just not as bad) last weekend using 5.5.
SETUP:
Computer: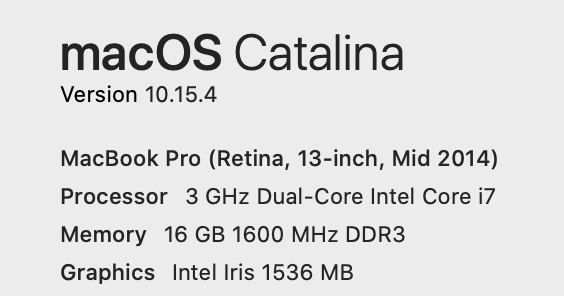 MimoLive: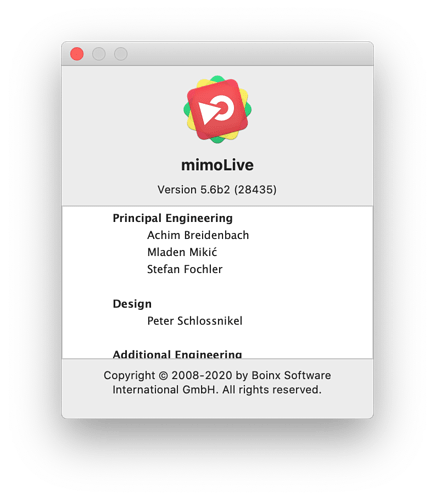 MimoLive Video Output settings: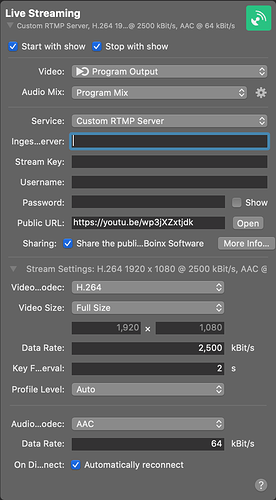 Camera
Canon Vixia HF G60 - connected to my mac via the El Gato CamLink 4K. Camera is set to send out 1280x720 signal to the computer
Please let me know if you need any other info.
I appreciate the support.