Hello,
I'm trying to stream to our new Limelight CDN with Mimo and constantly get RTMP error -1337 disconnects as soon as Mimo tries to connect; I've checked the RTMP URL and credentials and they're good; and I tried over our old Akamai CDN and all is good so looks to be something to do with Limelight.
Can you help me isolate what the cause might be?
Screenshot of what happens in Limelight below: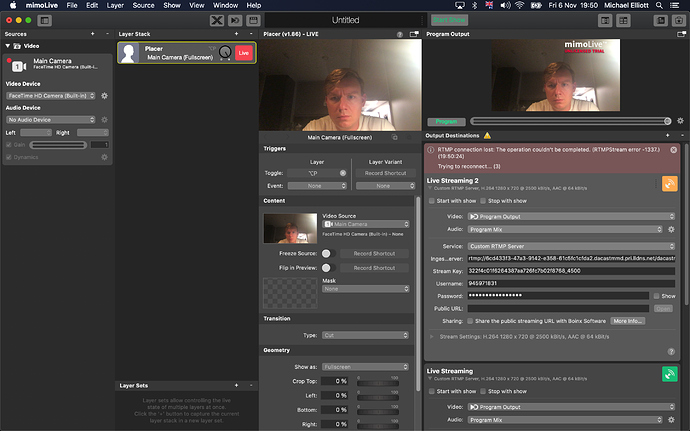 Test credentials:
Akamai:
RTMP URL: rtmp://p.ep53325.i.akamaientrypoint.net/EntryPoint
Stream key: dclive_1_150@53325
User: 960447
Pass: 961842
Preview link: https://iframe.dacast.com/b/181709/c/568976
Limelight:
RTMP URL: rtmp://6cd433f3-47a3-9142-e358-61c5fc1cfda2.dacastmmd.pri.lldns.net/dacastmmd
Stream key: 322f4c01f6264387aa726fc7b02f8768_4500
User: 945971831
Pass: 8fe97587dfa33d53
Preview link: https://iframe.dacast.com/live/647a4d07-fd98-f70f-bd5a-f046990bb18a/b459be64-a715-9738-a1fa-a0c8fcd63a0e
LMK if you need any further info.
Thanks,
Michael
Senior Solutions Specialist - Dacast