I added a new Source: Blackmagic today, and choose one of my DeckLink HDMI inputs. It was a very last minute change before a live show, and the audio/video was out of sync on the show. Only later when trying to figure out why did, I realize that the delay was enabled: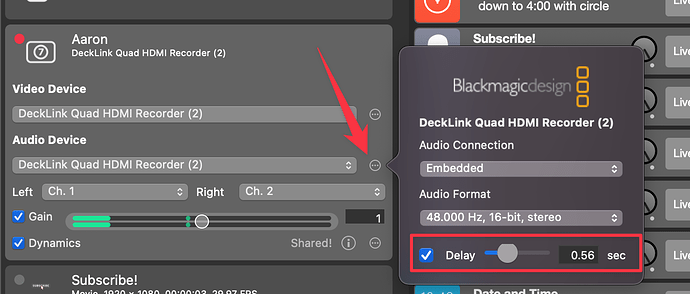 I hadn't enabled it when I set it up, which means that it remembered that from a previous use of that BMD source, or perhaps copied the settings from another instance of the DeckLink that is already in use when I created the new source. Point it, there was already a delay applied, but no way to know it unless I clicked on that tiny little (…) menu.
So…
I would love to see an indicator on the Source that delay has been added. We see a "shared!" indicator, and of course the Gain and Dynamics, but why not a Delay indicator?

I don't think the delay should be copied or remembered, but I could see an argument both ways. So having the visual indicator is, I think, the key here.
cheers!
-Joseph