Any updates on Mimolive Reporter? Last update was on 2 years ago.
Good question. Mimolive reporter crashes for me when connecting to MimoCall, so it isn't part of my workflow any more… but I'd like it to be.
Update is in the works. Should be able to start beta testing next week.
Hi Oliver, has this been fixed now?
We released a new bugfix version of mimoLive Reporter for iOS those days. Please update your apps on the iOS devices and let us know if there still crashes or bugs. Thanks!
Thank you for the new revision. I'm now able to maintain a connection. One issue I'm having though: We can hear the remote user of mimoLive Reporter, but that person cannot hear our program out. Any tips on how to resolve this? We had the Reporter plug in earphones, but that did not fix the issue.
I should note just to be clear that the Reporter is using an iPhone, and not a Chrome browser.
Have done more troubleshooting. Tried connecting with the same mimoCall ID via chrome browser on desktop computer. We were able to hear the program out from the mimoLive home base via that route. Tried again on the iPhone with and without headphones, while making sure volume was up with each.
Just tried using Reporter and a 2019 iPad. No luck. Seems to be a Reporter issue, although I'm still open for user error as a possibility. Will continue to try to figure this out, but would welcome some tips, if anyone has any.
Later:
Okay, another update. Created a completely new document, added only the mimoCall and played some music in program out. Tried connecting with a different iPhone with Reporter. Could connect, but could not hear the music from program out. Seems to be a Reporter issue. Could someone from Boinx confirm if they are able to hear the program out on the Reporter end of a call? Thank you!
Hello @alternativeplan. Thank you for the fast and valuable feedback. I have been able to reproduce the mentioned issue. This is a top priority issue. I will keep you updated on the progress.
Thank you! I'm hopeful for an update soon!
Helllo @alternativeplan . We have been able to pinpoint the issue last Friday and are now working on a solution. The input format for audio that Apple accepts has somehow changed.We have tested different audio formats via "Show Settings" / "mimoCall Source Settings" with no effect (ex. 48000,44100, mono, stereo). There are several format conversions from mimoLive to mimoLiveReporter. Today, I will be testing what input formats are allowed. My next update will be with the bug fix. After that we hope that the app review process will be swift.
Thank you for this update. Do you have a best guess ETA on when the app will be available to the public.
As a fallback, it should work with the Safari iOS browser.
Hello @alternativeplan I apologize for the inconvenience and the wait. We have repaired the mentioned issue. The mimoLiveReporter version 2.3. has been submitted for review (to the AppStore). As soon as the review process finishes, I will inform you. Stay tuned!
Can you please explain me the meaning of these icons when long pressed the mic icon on the app? thanks a lot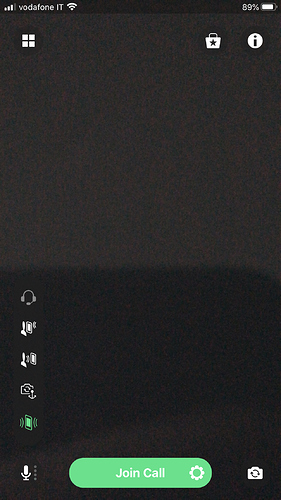 yes, I would like to know as well please

Hello @tino and @MRX. Thank you for using mimoLiveReporter and for reaching out.
From top to bottom:
Use "headset/headphones microphone" as main audio input.
Use "device back microphone" as main audio input (tied to the back camera of the device).
Use "device front microphone" as main audio input (tied to the front/selfie camera of the device).
Use "current camera microphone" as main audio input (tied to the currently selected camera for image input).
Use "all microphones" as main audio input (use both, front and back microphone).
Hope this helps.
Hi guys, i'm experiencing i think a bug within the app; when connecting bluetooth headphones, as airpods, i can hear the mic from headphones guest but they dont hear the program. If they switch to cable headphones everything works fine. can you check this?
Tino, Thanks for letting us know. Sorry about the issues. We've been able to reproduce this and are working on a fix. Thanks for your patience.