Hello, when creating a browser source it just remains stuck in a portion of the screen in the background.
MACBOOK Pro M1 with 11.5.1 - 16gb ram - 1tb ssd
When creating a browser source, a "weird" extra window is created
The weird extra windows is greyed out when the interact browser windows is open
The weird extra windows is populated with the browser source when the interact browser windows is closed
This weird extra window cannot be positioned in the screen but have a strange behaviour because accept interation.
The weird extra windows adds up for each browser source added in the session
This causes the computer resources to max out quickly when more than 4 or 5 browser sources in the session, so it's impossible to use
Not to mention the issues to have floating unarrangeable weird windows around the desktop
Any ideas? I had this issues since I remember trying out Mimolive since the beginning of 2021, so this not seems to be a specific version update issue, but more an M1 incompatibility issue since Mimolive is still running on Rosetta 2.
DETAILS:
Only one browser source with interact activated in the session:
You can see a "mimolive" WEIRD window greyed out while the actual normal browser window open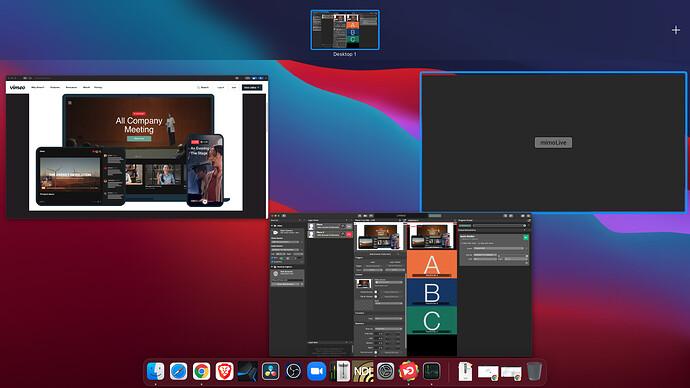 One browser source active without interact
You can see a "mimolive" weird window that have now the vimeo site showing up.
Can't add more screenshot because I'm a new user. But I'm willing to add any details as requested.
These weird windows add up with as many browser sources I add, no matter what I try to do (tried with integrated monitor only, dual monitors, displaylink monitors etc) nothing works, the issue is always there. Example: with 3 browser sources, 3 weird windows shows up and so on.
I'd really appreciate the help on this, because this is the only issue that blocks me to buy MimoLive.
Thanks in advance.
Andrea